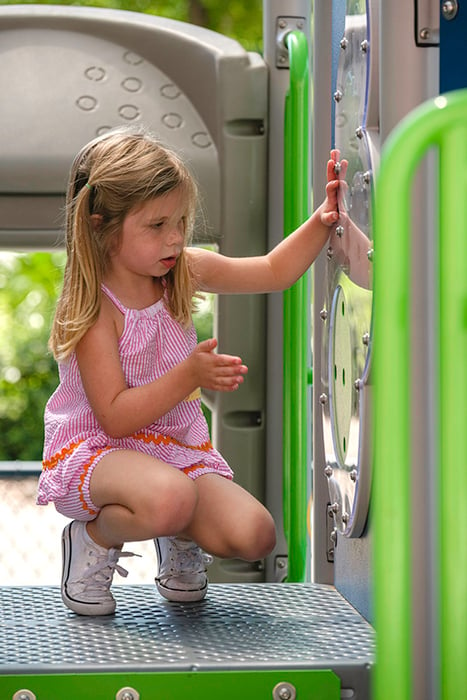 What To Look for In a Church Playground
When you're considering playground equipment for a church, temple, or other place of worship, several factors should be taken into account to ensure the safety, engagement, and development of the students using it.
Line of Sight and Safety: Choose playground equipment that doesn't hinder supervision so that caregivers have a clear line of sight across the playground.
Age-Appropriateness: Choose playground equipment for all ages so all children have an opportunity to play.
Accessibility & Inclusivity: Choose equipment that allows children of all ages and abilities to play together.
Maintenance: Choose equipment (like ours) made from high-quality, durable materials that can withstand heavy use. Your maintenance crew will thank you.
Themeing: Consider taking advantage of a themed playground or custom educational panels to reinforce faith-based teaching in fun ways.
Budgeting Resources for Religious Organizations
Planning Tools
Make shopping for your next playground easier with the use of our planning tools.
The Link Between Play and Child Development
Did you know that having fun on a playground can enrich a child's cognitive development, strengthen muscles, encourage creativity, and develop social skills? It's true. Because of the ways that they foster movement and decision-making capabilities, playgrounds are ideal environments for kids to learn important skills like flexibility, communication, and even compromise. That's why adding a play environment to your faith-based center is a crucial way to boost appeal and value.
Ideas for Youth Ministries
Superior Playgrounds carries a diverse selection of play equipment, from simple outdoor play areas that are budget-friendly to themed structures to foster imagination. Each playground is designed with a certain age level in mind, so consider the ages of the children who will be using your playground before determining which style is best.
Other Recreational Equipment for Churches
In addition to play environments, our catalog includes a variety of other valuable outdoor recreation equipment like shade structures, outdoor furnishings, and outdoor pavilions.
Need help with selecting playground equipment?
Our knowledgeable sales representatives can help you pick playground equipment that is age-appropriate, suitable to the space available, and within budget.