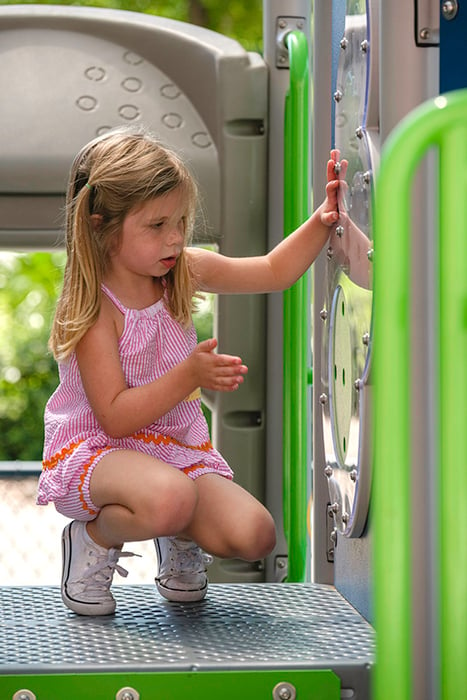 What To Look for In a Pre-School or Childcare Playground
When you're considering playground equipment for a pre-school or childcare, several factors should be taken into account to ensure the safety, engagement, and development of the students using it.
Line of Sight and Safety: Choose playground equipment that doesn't hinder supervision so that supervisors have a clear line of site across the playground.
Age-Appropriateness: Choose playground equipment that offers appropriate physical challenges to your students.
Inclusivity: Choose equipment that allows children of all abilities to play together.
Budget: We know budget is an important factor. Beyond the equipment itself, freight, installation, and surfacing should also be considered.
Budgeting Resources for Pre-Schools and Childcares
Planning Tools
Make shopping for your next playground easier with the use of our planning tools.
The Role of Unstructured Play in Child Development
Most parents and educators are aware that play is important for kids, but what many don't realize is just how closely child development and play are connected. Play directly correlates to brain development and how children grow cognitively, socially, emotionally, and physically. The social interaction that kids have while playing side by side is an excellent place for them to explore feelings, learn to express themselves, and develop oral skills. What's more, all the movement that happens on a playground allows for many new learning opportunities in adaptability, flexibility, and resilience. Essentially, the combination of all these skill-building aspects of play makes it one of the most valuable and beneficial aspects of childhood — and, with the right play structure, it's easy to help kids make the most of their time on the playground.
Playgrounds to Encourage Child Development and Play
Superior Playgrounds offers a variety of different playground options, including the following, all of which are customizable in terms of colors, style, and features:
Classic Play Environment with a Learning Area: Designed for children ages 2 to 5, this playground environment includes a fun structure, shaded swings, a climbing area, and an outdoor classroom.
Active with Imagination for All Ages: Featuring a physical and a dramatic play area, this play environment is geared toward kids between the ages of 2 and 5 but also includes a ground-based structure for kids who are between 6 and 23 months old. It features a freestanding gas station and storefront, a pair of talk tubes, and traffic signs.
Inspire Creative and Active Play: Inspire imaginative play with this package that features a structure and swings, along with outdoor musical instruments.
Need help with selecting playground equipment?
Our knowledgeable sales representatives can help you pick playground equipment that is age-appropriate, suitable to the space available, and within budget.