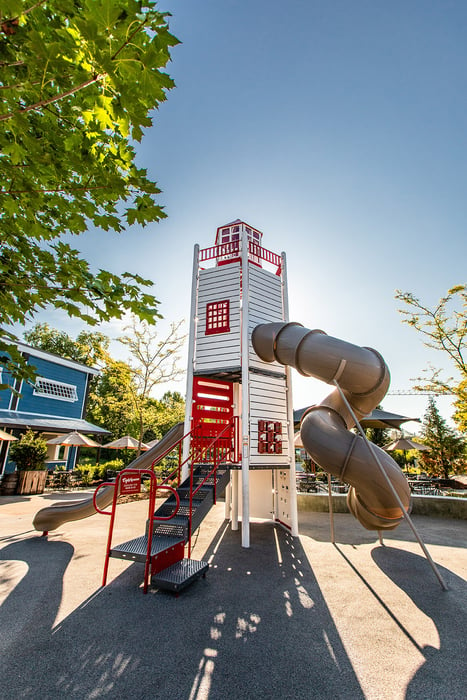 What To Look for In a Playground for Your Business
When you're considering playground equipment for a business, several factors should be taken into account to ensure the safety, engagement, and development of the students using it.
Destination Playgrounds: Create a destination playground by choosing a themed playground and providing plenty of shaded spaces and seating. By attracting potential customers, you can help promote consumer spending.
Line of Sight and Safety: Choose playground equipment that doesn't hinder supervision so that caregivers have a clear line of sight across the playground.
Age-Appropriateness: Choose playground equipment for all ages so that children have an opportunity to play.
Accessibility & Inclusivity: Choose equipment that allows children of all ages and abilities to play together.
Maintenance: Choose equipment (like ours) made from high-quality, durable materials that can withstand heavy use. Your maintenance crew will thank you.
Budgeting Resources for Businesses
Planning Tools for Zoos, Aquariums, and Other Businesses
Make shopping for your next playground easier with the use of our planning tools.
Playgrounds for Businesses that Support Learning Environments
The beauty of a zoo, museum, or aquarium is that it invites kids into the kind of learning and discovery that is fun and engaging. Even as they're walking through exhibits or staring at animals, children are expanding their understanding of the world. That's why it only makes sense to create play environments for these important locations that are just as enriching. Our playgrounds are specifically made with your business in mind, so you can offer the kind of settings that kids will love and one that supports your mission.
More Than Playgrounds, Too
As a full-service playground provider, we not only provide exceptional playgrounds for kids, but we also have shade structures and outdoor site furniture so you can create a complete environment from using just one company – ours! From themed play structures to picnic area shading, our recreational components ensure you can create attractive, versatile settings for your guests. When you work with us, you can design spaces where families come together and memories are made.
About Superior Playgrounds
Superior Playgrounds has been cultivating communities, enriching lives, and allowing people to focus on what matters most to them for over 30 years. With our extensive collection of outdoor playgrounds, shade, shelter, and site amenities, we're the resource you can trust to continue enriching the lives of children and adults at businesses just like yours.
Need help with selecting playground equipment?
Our knowledgeable sales representatives can help you pick playground equipment that is age-appropriate, suitable to the space available, and within budget.