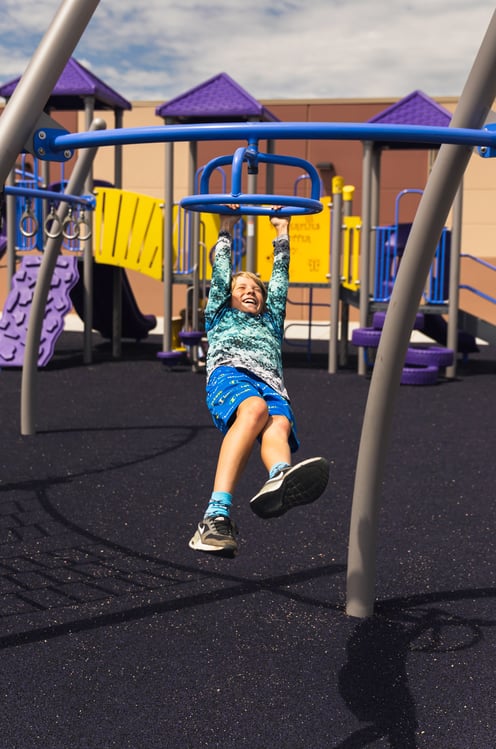 What To Look for In a School Playground
When you're considering playground equipment for a school, several factors should be taken into account to ensure the safety, engagement, and development of the students using it.
Line of Sight and Safety: Choose playground equipment that doesn't hinder supervision so that teachers have a clear line of sight across the playground.
Outdoor Classrooms: Incorporate outdoor classroom space using a shade or shelter structure with either benches or tables underneath to maximize the space beyond recess. You can also use log benches, mushroom steppers, and more for creative seating ideas.
Physical Education: Incorporate active components like climbing rope walls so that physical education teachers can take advantage of the playground space for class time
Age-Appropriateness: Choose playground equipment that offers appropriate physical challenges to your students. Pre-school students, for example, may not benefit from the same equipment as a 5th grader.
Inclusivity: Choose equipment that allows children of all ages and abilities to play together.
Budget: We know budget is an important factor. Beyond the equipment itself, freight, installation, and surfacing should also be considered.
Budgeting Resources for Schools
Planning Tools for Schools
Make shopping for your next playground easier with the use of our planning tools.
"It's been a fantastic thing and I'm so appreciative of the folks that listened and designed something that really meets our needs. Just to see the smiles of their faces has just been amazing. Our teachers are happy, our parents are happy."
Quality Elementary School Playground Equipment That's Made in the USA
The school playgrounds we carry are constructed using state-of-the-art techniques and durable materials that ensure unmatched quality. What's more, we are passionate about adhering to the highest safety standards to keep preschool and elementary school students protected and easily supervised as they play. Our products meet or exceed the standards set forth by organizations like IPEMA (International Play Equipment Manufacturers Association), the U.S. Consumer Product Safety Commission, and more. What's more, our playgrounds are proudly made in the United States so you know you're getting the best quality.
Need help with selecting playground equipment?
Our knowledgeable sales representatives can help you pick playground equipment that is age-appropriate, suitable to the space available, and within budget.