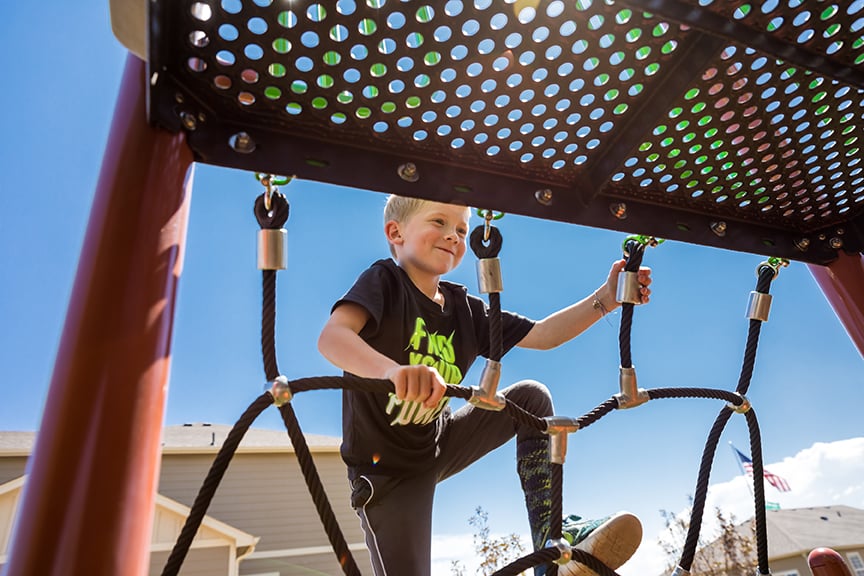 What To Look for In an Apartment or Housing Community Playground
When you're considering playground equipment for a housing development, several factors should be taken into account to ensure the safety, engagement, and development of the children using it.
Line of Sight and Safety: Choose playground equipment that doesn't hinder supervision so that caregivers have a clear line of sight across the playground.
Age-Appropriateness: Choose playground equipment for all ages so that children throughout the community have an opportunity to play.
Accessibility & Inclusivity: Choose equipment that allows children of all ages and abilities to play together.
Maintenance: Choose equipment (like ours) made from high-quality, durable materials that can withstand heavy use. Your maintenance crew will thank you.
Additional Amenities: Consider dog park equipment, outdoor fitness equipment, and furnishings like benches, tables, and trash receptacles.
Budgeting Resources for Communities
Planning Tools for Communities
Make shopping for your next playground easier with the use of our planning tools.
"As a property manager, we want to bring value to their homes. It's essential to have a playground like this to attract families and bring value to the community."
Complete Your Space
We offer commercial shade structures, picnic tables, benches, dog park equipment, and shelter structures to complete your housing community.
Playgrounds For All Budgets
Our large catalog of housing development playgrounds includes various play structures, components, and freestanding playground equipment, all designed to make recreation as fun as possible. Each structure we create gives children a safe, enjoyable place to stretch their muscles and stay active. When you choose Superior Playgrounds, you can know that you'll be able to find play equipment that fits in your budget. What's more, our collections are fully customizable, so you can pick just the style and colors that reflect the style of your residential community.
Playgrounds Made in the USA
We build all of our playgrounds at our own manufacturing space in the United States. We use durable materials and state-of-the-art manufacturing equipment to ensure the best possible manufacturing techniques. Whether you select a themed structure like a tractor or even a traditional playground, you know you're gaining a first-rate product that will provide long-lasting entertainment to children.
Need help with selecting playground equipment?
Our knowledgeable sales representatives can help you pick playground equipment that is age-appropriate, suitable to the space available, and within budget.